Reasons behind Tel Aviv's fear of war with Hezbollah
Mehr News Agency – August 14 is the anniversary of the Lebanon Resistance Victory over the Israel's 33-day war in 2006. That has been enough for Israeli officials to threat Hezbollah in Lebanon.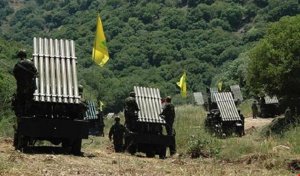 The Zionists, deeply concerned about the situation on their domestic front, have been tempted to try a possible war with Hezbollah. Israel has devoted a huge budget of 30 billion shekel to its military for protecting its internal front from rocket attacks by Gaza or Hezbollah missiles.
Zionist analysts are heavily worried about the new and modern weapons of Hezbollah. The Zionist Channel 2 analyst Yaron Schneider points to the Lebanon Resistance missiles "Se7" and "Se14". According to various reports in recent years, Hezbollah has some 120,000 to 130,000 missiles and rockets, most short to medium in range. About 90 percent of the rockets can reach up to 45 kilometers, which means they could reach Haifa.
Amos Gilad, head the Institute for Policy and Strategy and the former head of the Defense Ministry's political affairs bureau has spoken of Israeli army reports to the Security Council on future war scenarios in the Northern Front, which include the discharge of hundreds of thousands of Israelis and the daily exposure of hundreds of missiles and energy shortages.
Gilad warned against the military struck on the northern front and considered the threat of the internal front to be very serious. "The resistance has targeted its missiles in the north towards Israel's Tel Aviv. This condition requires that the army and security institutions be fully equipped" he announced.
The Zionist's Haartez shared damaging estimates in the event of a brief clash with Hezbollah in Lebanon, "what would happen if it [the war] lasted about 10 days, a longer but medium-length campaign, about three weeks; or a longer conflict that lasts more than a month.
The scenarios shared with the cabinet included estimates of how many rockets that would likely be fired each day, how many them would be intercepted, how many would strike on plains versus constructions and civilians.
If a war erupts up north, the Israeli army plans to evacuate hundreds of thousands of people who live within missile range, and move them to other parts of Israel. Haartez reported that in the wake of the war, hundreds of missiles will be fired every day to Israel, a fatal blow to both in the north and south of the country. The proliferation of missile attacks and the limitation of anti-missile systems such as the Iron Dome and Patriot in their interception will make it harder to confront these missiles.
According to various reports in recent years, Hezbollah has some 120,000 missiles and rockets and they can launch 700 rockets a day, most short to medium in range. About 90 percent of the rockets can reach up to 45 kilometers, most of them are Grad-type Katyusha.
Hezbollah has the ability to fight for several weeks in a row, even if half its missiles are shot down by the Israeli Air Force, reported Haartez. Iron Dome air defense system will face severe problems in dealing with this rocket volume, especially because of limited number of missile reserves.
With all the efforts of the Zionist authorities to assure Hezbollah of the next war, the truth is, the Israelis have no faith and trust on their defensive systems. According to Zionist circles, more than half of the Israelis will naturally turn to more secure areas in the event of a war between Hezbollah and Israel. Meanwhile, the economy of the Zionist regime faces a lot of problems like power outage, water shortage and other war-related problems such as flight cancellations.
The Zionists are also concerned about platforms and offshore facilities. According to Zionist media, Tamar square facilities are located 23 kilometers from the shore, the Karish and Tanin field development are 40 kilometers away and Levitan is 10 kilometers away from the coast. The Zionists have been spending hefty money in gas platforms, but they are still very worried.
Meanwhile, Lebanese Hezbollah Secretary-general Seyyed Hassan Nasrallah announced several days ago that he was ready to attack Israeli gas platforms in the Mediterranean, saying he was waiting to get a green light from the Lebanon's Supreme Defense Council.
Abdel Bari Atwan, the famous analyst of the Arab world, wrote "Palestinians and Lebanese resistance are not afraid of Israeli military superiority as Arab regimes are fearful of them. He went on to address the Zionist concern about targeting Hezbollah with its unmanned aerial vehicle (UAV) gas fields in the Mediterranean Sea."
Atwan adds: "All Israeli experts believe Iron dome may be able to deal with missiles coming from Gaza, but it certainly cannot demolish drills that come from southern Lebanon or southern Palestine. What we want to say is that dignitaries work around the clock to strengthen the military power of resistance and stand up to the Israeli tyranny."
He continued "we do not know the number of patriotic invaders, but what we know is that there are hundreds of unmanned drones in Lebanon's and Gaza's stockpiles, a matter that wastes the Israeli military budget and creates panic among settlers. Perhaps most Arabs do not pursue these remarkable news and meanings, but the Israeli military analysts are closely following the trend and are aware of the size of the threat, whether they are threatened with drones or hundreds of thousands of resistance advanced missiles."
Israel's Minister of Education Naftali Bennett and an Israeli cabinet member, who is also the military officer of the regime, described his level of risk as part of a maneuver for the domestic front at an Israeli school. He said "each new war causes damage at unusual level. Israel has not had new plans since the beginning of 1967, and now Israel will face retaliation from Arab states if it breaks out any war with Arab nations." Although the Zionists think very little of the probability of a war initiated by Hezbollah, but any small incident may turn into a full-fledged war.
Undoubtedly, the Zionists having the 2006 bitter war experience before them, fear another war with Hezbollah for three reasons: Hezbollah's powerful missile power, the fragility of the Israeli front, and the heavy economic consequences of the war. They have fear of being hit by the power grid, large power plants, airports and critical facilities.