Lebanese Army Squeezes Daesh Ahead of Imminent Offensive
As it geared up for a looming offensive against the militant group, the Lebanese Army took hilltop positions from the Wahhabi Daesh on the outskirts of Arsal Sunday, pounding positions with artillery fire throughout the day, a military statement said.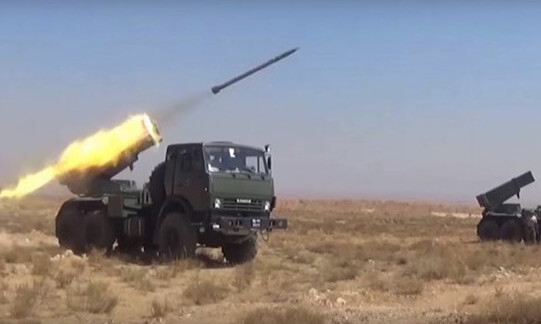 "Army units took positions on the Daleel al-Akra Hills, Dawar al-Njasah, and Kalaat al-Zinar from the side of the outskirts of Arsal," the Army statement read. "The completion of deployment will secure the perimeter from the terrorist units belonging to Daesh."
The statement described the positions as among "the most important hills overlooking Daesh's [positions.]" It added that the military strikes destroyed a number of fortifications and led to confirmed casualties amongst Daesh's ranks.
The Army's attack killed six militants, al-Ahed website reported. The Army soldiers took the positions by advancing through the hills to the north of Wadi Hamid, near Arsal, under heavy air and rocket support from Army planes and artillery units.
The strikes were the continuation of the Army's almost daily targeting of militant positions. Late Sunday evening, Hezbollah's War Media Center reported that the group's fighters launched rocket fire at Daesh positions in the border area, inflicting a number of casualties and killing a Daesh commander.
The combined forces will move to expel Daesh from the roughly 300 square kilometers they control along the Lebanese-Syrian border. The terrain is a difficult mix of rugged mountains and exposed plains. Daesh has entrenched positions along the highest peaks, giving the terrorist group fire control over the advanced troops below.
The Army also released a statement calling on analysts and pundits to "foster accuracy … and revert to [the Army] … to get facts and accurate developments," following numerous media reports concerning the looming offensive.
Hezbollah's offensive last month expelled the former al-Qaeda-affiliated Nusra Front from the outskirts of Arsal. The battle culminated in a ceasefire that a few hundred militants, along nearly 9,000 civilian refugees go back to Syria.
The WMC reported Sunday night that an additional 3,000 refugees and 350 fighters from militant group Saraya Ahl al-Sham, who withdrew shortly after the start of the offensive are set to leave Arsal's outskirts this week.
Source: Hezbollah War Media Center